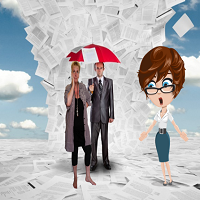 Hello dear fans. It's been a quiet week, don't you think. You did notice my absence? Of course you did! I haven't been around to entertain you with my column. That's absolutely not my fault. I'm not to blame in any way. I, wash my hands with extra hydrating soap in the basin that's called innocence. I couldn't help it, honest! I wanted to, but I couldn't. Why not? I can hear you ask that question. I was too busy. I worked overtime and as a professional ego one has to get ones priorities in order. In times where several subjects need my attention, followed by my sharp opinion and my well-aimed nasty look or disapproving moans, that's juggling with time dear people!
I mean, how to make a choice as to which subject to chew on for hours, looking at it from numerous points of view, only to make assumptions after that and finally pick the most negative one you can come up with. That's not a piece of cake and this shouldn't be something you do without the utmost concentration. Besides, try doing all that during the day (I'm not allowed to work at night, sadly). I'm pretty good at multi-tasking, but things got out of hand. While I was getting upset about having no time for my audience, my fans, my followers, I had to be upset about at least ten other things.
Normally my creativity flows like warm honey in my veins but now I got stuck like a big lump of garbage in a kitchen disposer. (I'm getting rather good at metaphors, if I say so myself!) It's not relaxed feeling piled up creativity being blocked by a pile of worries.
And don't get me started on the weather. I should have known better. It was too good to be true. That divine autumn like summer we had for weeks. Nice cool days, on which you can get loads of work done and at night you can fall asleep on the rhythm of the raindrops on the window. Oh, I love that. The heat wave that came over my part of the world was reason enough to do absolutely nothing. I was so caught up with looking at weather forecasts that would bring hope. How I longed to read that cool weather was coming along. When? Hurry up with that depression!
Another activity that kept me busy, besides looking for weather that fits my personality best, was FADHW (First Aid During Heat Waves). The ventilator in the room had to be positioned at a precise spot to enable the air to reach my overheated body. I started a mass production of ice cubes in the freezer. Not just for the lemonade, no… also for the bucket of water I placed under the table to put my fragile yet cute feet in for a nice cooldown. Walking up and down to the bedroom to check the air conditioner had given me soar feet. (I got 1,5 bucket of water out of the airconditioner, no wonder if the humidity content is 92%).
When I'm I full battle with the weather, I tend to be hot headed. A subject that normally would cause me to give a small sigh, now gets my full attention and the complete set of emotions which I don't attempt to hold back on. The stress level and the humidity content went up at the same speed.
I guess I have done my best to make sure you understand what I had to endure these last days and why I didn't write my column?
I'm glad to be back in my own environment. I was away for a week in a bungalow with 3 people. When I'm in the battle against heat, it's not a good idea to spend time with me. In my home I can make up fighting strategies and walk around like a general to oversee if we are still winning. I can tell you, it's not a pretty sight.
I just got news that I'm going to relax for some hours. Ernestine told me that the enemy had gone for a few days. If the weather allows it, I'll be back next week to give you my full attention.
Love,
Betty