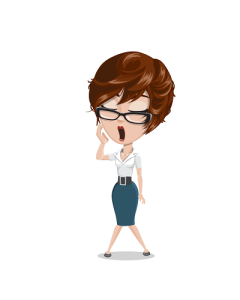 Hello my dear fans… time for my weekly column!
This weeks theme is: Impatience.
One of my better shadow sides, if I may speak for myself. I graduated with honour at the University of Impatience. I know all about it and I love to show my expertise on the subject. Sherlock knows all about this special quality of mine. If I want to do something, I want to do it NOW and I don't mean tomorrow or next week, no I was very clear about it.. I mean NOW!
If I come up with a plan, I go… for it. I don't hesitate or think it over, no way Jose, I don't spent time thinking about other options, I'm doing it, NOW!
Of course I'm upset if Sherlock was right about me being impatient and it would have been better to sleep on it, to give it a second thought or ask an expert for advice… Suddenly I'm silent and I'll be sitting in my little corner, feeling frustrated. I'm certainly not going to say that he was right!
Unfortunately I have to confess that being impatient doesn't bring me the expected results. There are moments that I have to do something again, due to the fact that I acted too quickly. Of course I'll be in my room and Ernestine gets to solve the problem…
Impatience does have an advantage, honest, it does… ( I have to come up with some excuse for my behaviour…) You do get to see things/situations twice because you were in a hurry the first time around. Besides, if you never try things, you'll never know what NOT to do, don't you think?
Ernestine: I say, Betty…
Betty: Yes?
Ernestine: Don't you think it's time to end this column?
Betty: Al righty…
My dear fans, until next week! I can't wait!