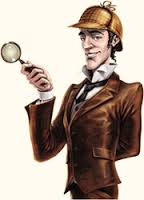 It was inevitable that Betty would find a man one day. After all her searching she finally found a decent one. Sherlock entered the stage.
Needless to say it wasn't a love story all at once.
How Betty met Sherlock.. 
Being the special creature that I am, with a very own character to present my ego, I had to find a matching male companion. I did!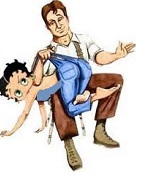 It took some time to explain my Betty. Why she was invented, what she does and that there's no need for therapy to treat me for multiple personality disorder. Betty has a function. Luckily my prince got the idea and he sees the humour in the whole Betty story.   He even has the guts to confront her directly and make her see her place in the relationship. That's what I call being brave.
Sherlock entered the stage when my prince discovered his own ego. Making the ego visible in the form of a cartoon character is a good way to look at yourself in a funny way. It takes the pain of seeing your shadow sides away. If you find yourself using your ego, it reminds you of the little character inside you and hopefully it will make you laugh about yourself.
The choosing of the character must be done carefully. Sherlock is based on the way my prince thinks and his odd way of communicating sometimes. Smart yet incomprehensible.
Every now and then Betty en Sherlock address each other directly. Given the distance between us (geographically) we communicate through apps. A conversation might be like this:
Betty: Psst, Sherlock
Sherlock: Yes.. Betty
Betty: Are your feeling ignored too?
Sherlock: Yes.. it does feel like that.. what are WE going to do about that?
These conversations are hilarious, because we do know its us, but it makes expressing  difficult feelings a bit easier. Confronting each other on things you might not like so much about the other person is hard.  A good relationship is build on trust and the feeling that you can be yourself completely. The trick is not to take things personal. That's exactly what Betty does, she makes it personal. If you learn to be aware of that, you can be honest to each other.
It will take some bumping in to each other in our relationship, but Betty is in training. She still has her moments of no mercy, where she puts on her boots, to start walking.. all over Sherlock. Lucky for us we realize that we have those little people inside our heads.. that's a start.